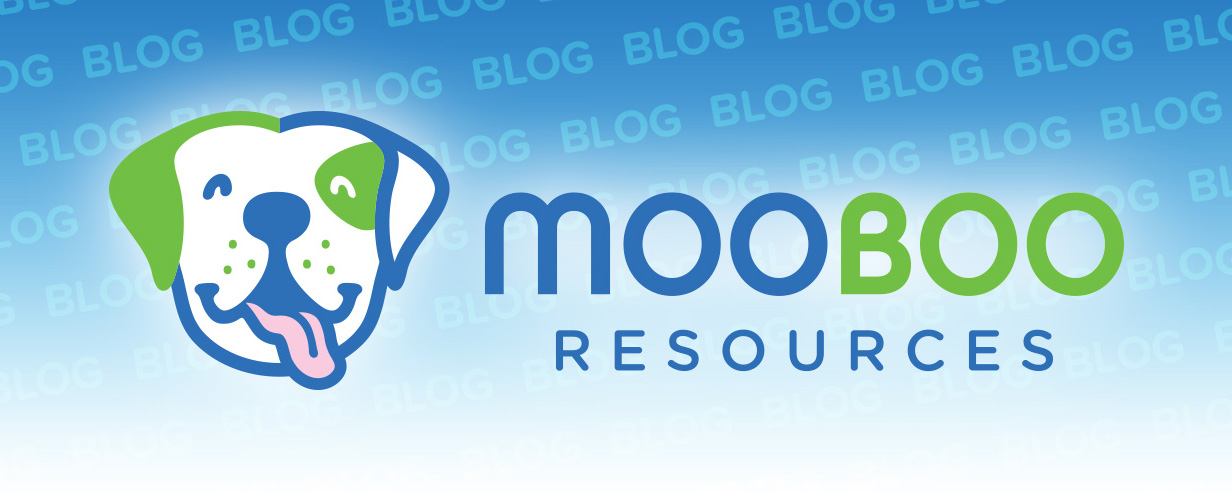 The Story of MooBoo Resources
By Jenny Burke, May 19, 2019
In 2002, our younger child was diagnosed with autism at the age of 2½. While sweet and snuggly, his language was very delayed, and his play and behavior were odd. He preferred to be alone. He loved to watch a toy car's wheels spin. He could endlessly stare at a ceiling fan, or walk back-and-forth along a wall. He quoted long chunks of dialogue from videos with no comprehension of what he was saying.
Most disturbing was that he could be right next to his older sister, who would be crying and screaming, and it was as if she did not exist. People mostly did not exist to him.
When explaining the autism diagnosis, the pediatric specialist matter-of-factly told my husband and me to keep our expectations low for our child; that he was probably "mentally retarded" (his words). When we asked for advice, all he did was hand us a short print-out describing different types of treatment. Then he said there was no need for a follow-up appointment, good-bye, and good luck.
We left that doctor's office with no idea of what to do next. The future stretched ahead like a big unknown. We lived in a rural part of New Hampshire with no family around. We did not know anyone who had autism. We were terrified.
January 2019 marked the 17th anniversary of our son's autism diagnosis. That month I called him on the phone. He said, "Hey Mom. I can't really talk right now because I'm in the middle of a project with two other people." Later that night, he group-texted his sister and me a very funny inside joke. These interactions might seem insignificant to a parent of a "typical" child, but they filled me with joy because of how far he has come.
Our son is currently in college studying music performance and music technology.
He is funny, articulate, musical, can work a theater light and sound board, is a good driver, and does not have a mean bone in his body. Does he have ongoing challenges? Sure. But his progress is remarkable.
We ran a sprint inside a marathon for many years. It was not always pretty. There were a lot of tears along the way (mostly mine!). But we all worked hard – most especially our son – and I am proud of all he has accomplished.
Our son made huge strides as the result of a very comprehensive, all-hands-on-deck approach to helping him learn and acquire skills and abilities. Professional involvement and treatment; structured intervention and programming; special education; intensive parental involvement… all these things were required.
One thing I realized fairly early on was that my son really benefited from direct, visual teaching of important concepts. Concepts that would help him to build communication, social, and coping capabilities. Concepts that tend to be hard for concrete, black and white thinkers like my son.
Here are only a few examples of concepts I worked on at home with my son: people do not always think the same thoughts (to help him take the point of view or perspective of someone else); "first-then" (a very important one, e.g., "First you eat dinner, then you go play."); strength or degree of feelings (important for coping); and pronouns (like many kids with autism, our son constantly mixed he and she).
These concepts were not taught in the classroom. Some were definitely covered during therapy, but in those cases, therapy time alone was not enough for the concepts to "stick" for my son. So I would tackle them with him outside of school or therapy/intervention time.
I would constantly search the internet looking for anything I could get my hands on to help my son to learn and understand important concepts. Occasionally I would find something helpful, but often I was frustrated.
Here were my typical complaints of what was out there:
My kid will not connect to drawings of bunnies or cute baby monsters, he needs photos of real kids!
He will be totally bored by this black and white worksheet;
The wording is too abstract or complex for him to understand;
This looks good but is too expensive;
This is better suited for professionals than parents;
This requires me to take a lot of time preparing for an activity; I don't have the time for that!
So, I ended up creating a lot of my own visual teaching tools drawing upon what I was advised by professionals, and what I observed them doing with my child. (These role models and sources of inspiration are listed at the beginning of Thinking about Thinking.) Additionally, I tapped into accepted theory and practice when it comes to working with kids with autism.
I found that these visuals — simple, hand-drawn with stick figures — often were very helpful for my son. They became an important tool in our autism toolbox, and often a springboard or supplement to the important work our child was doing in school, therapy, or other programming.
So here we are today. While our marathon is not yet over, the pace has slowed a great deal. Now it's our mission to help out those who have a lot of miles left to run. We're kicking off this mission with Thinking about Thinking, the first of what we hope will be many very helpful MooBoo products. We strive to offer content that I sure could have used when my own child was younger: affordable, parent and kid friendly, visual teaching tools. (And funny too, because I have found that kids with autism often have an awesome sense of humor!) We also have a lot of free content in Tips & Topics.
However, I want MooBoo Resources to be more than its products. I am hopeful this website can become a source of information, support, empowerment, and even community for those who love a kiddo with autism.
Thanks for reading, feel free to comment, and I hope you will come back often!
Want to know when we post something new? Subscribe here.